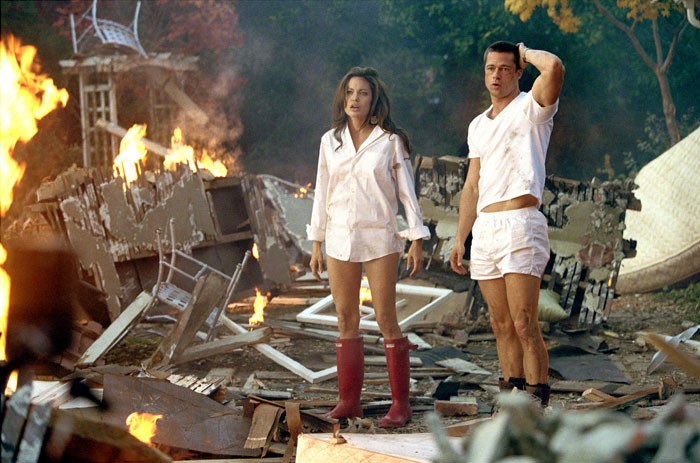 Do you have that one movie that you turn to to help your mood? On a sad day, it is that familiar thing that clears your head and brings some cheer. That one movie that you never tire of and can watch as many times as you want? For me its Mr. & Mrs. Smith. I own it on Blu-ray and its a favorite on my Netflix. A close second comes Moulin Rouge and the box set of Friends.
I know I know. In the grand scheme of things it is probably no match for a Casablanca or Gone with the Wind. It also probably won't been be preserved or restored for future generations.
But that's the thing with these guilty pleasures of ours. Some of them beat logic and rationale. Perhaps what draws me to it is the beauty of the leads and Brad Pitt's underlying yet constant smirk, one that is clearly enamored by Jolie. He was so clearly in love and unable to not show it, despite his lines.
The electrifying chemistry that we saw on screen and for ten years in real life hasn't stood the test of time, but this film will forever be etched in my mind for bringing two of the most beautiful people on earth together not just by casting directors but by a higher power. The humanitarian projects they worked on together has touched a lot of lives and brought global attention to communities affected by war and famine. Their beauty was given a truer purpose, serving a higher calling. Thank God for Mr. & Mrs. Smith.
Image copyright belongs to rightful owners